Our Services
Click on a service to find out more.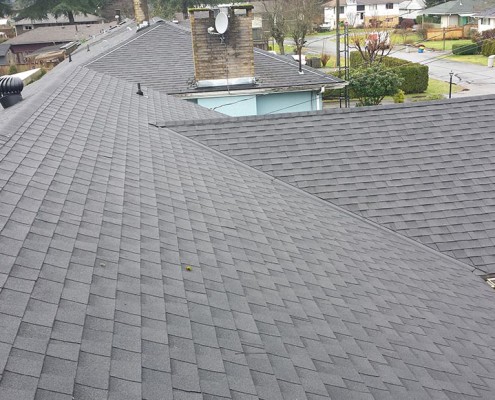 Laminated Shingles
The laminated shingle is a type of shingle which provides greater support as compared to the traditional, 3-tab strip shingle. Laminated shingles are basically a beefed up version of 3-tab shingles. It is created by attaching 2 shingles together rather than using just one. The shingles are over-lapped and then nailed in place when installing and after a roofing is done the tabs are the only visible component of every shingle. Those unfamiliar with roofing oftentimes assume each tab is one individual shingle. This process adds to the overall strength and durability of the roofing. The primary aim of laminated shingles is to offer a more natural and deeper look compared to that provided by a conventional 3 tab shingle which is why they're sometimes also known as architectural shingles. Laminated shingle creates depth through featuring tabs of various widths which are then separated by large, randomly spaced gaps. These large spaces in between the cut tabs highlight the tabs thickness, thereby creating a wonderful, visually-appealing depth effect. Some laminated shingles employ diverse tones, shades and contrasting colors so as to create an even more unique, yet natural appearance. They give the illusion of a wooden or slate roof for only a fraction of the cost. The laminated shingle holds up well against damage from falling objects and is less likely to blow away in the wind. By virtue of the heavier construction, with more protective fiberglass, asphalt and granules per square foot, the laminated shingles can resist heat, sun, impact and water damage more effectively and thereby are capable of lasting longer than 3-tab shingles.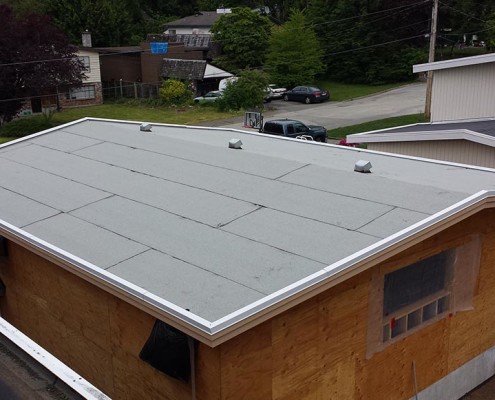 Torch-on Roofs
Torch On Roofing generally consists of 2 plies or layers of Modified Bitumen Membrane. Each layer, or pile, is approximately 3 to 4 mm thick. Its base ply is either attached to the substrate with adhesive or mechanically secured (using screws through large washers known as "plates"). The cap sheet is much similar in composition, but most times has a granulated surface to offer protection from the elements. Both the bottom face of the cap sheet and the top surface of the base sheet feature a thermo-fusible plastic surface. This means that they can be fused – or joined together – thermally, in this case by means of melting both surfaces using a propane torch. The major boon of Torch On Roofing is its durability. These roofs are expected to have an average lifespan of 25 years, de with depending on the varying local conditions and installation practices. Low maintenance costs and resistance to UV rays are also selling points. In recent years, the costs of installing Torch On Roofing has come down and its quality has gone up, meaning that it's a cost effective alternative for flat roofs.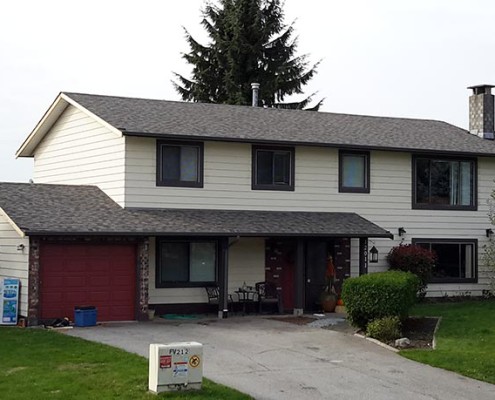 Cedar Conversions
A cedar roof conversion entails removing all existing cedar shingles and shakes, especially the old and weathered ones, on your roof and replacing it with a roofing material such as shingle style roof types. An experienced cedar conversion expert can help examine your roof to discover leaks, weak spots, and the age of your cedar roof, and assist you in determining whether your cedar roof needs repair.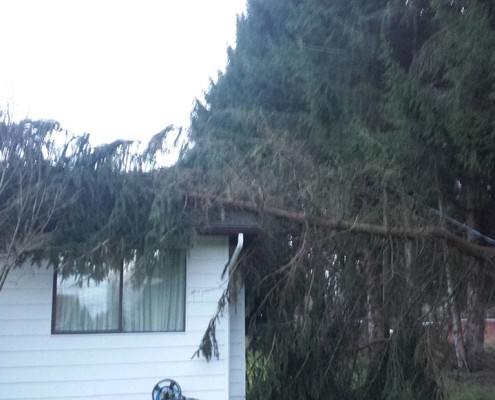 Roof Repairs
Everyday exposure of the roof to sun, rain, and other wear and tear will slowly age the roof membrane until its service life ends. A roof will need regular checkups in the form of inspections on a regular basis and prompt repairs. A leaky roof on your home could be a sign that your roof requires an inspection by a professional roofing contractor. There can also be problems associated with improper design which is often because the support structures are too weak to support the roof weight, too few drains, which lets water pool on the roof, a roof without adequate slope, and not adequate accounting for expansion and contraction in the decking structure. This eventually leads to separation of the roofing materials. If your roof is older, the repair situation could be the result of normal weathering. Homeowners normally hire professional roofing contractors to help repair damage caused by water leaks, fires, storms, and similar events. The roofing contractor begins work by inspecting the roof and determining the extent of the damage. With regular maintenance and ample repairs your home may not require a brand new roof.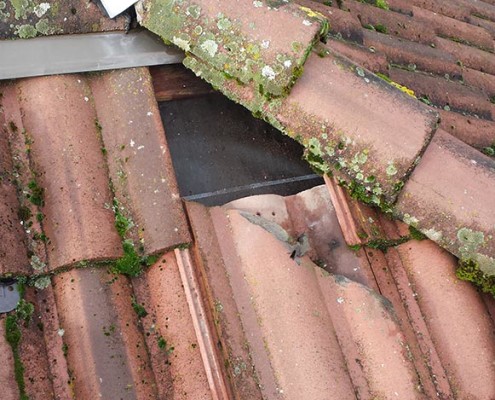 Roof Maintenance
Many homeowners don't think about their roof up until a leak appears. Like other parts of your home or building, however, the roof requires ongoing maintenance service. Proper care and attention will help you avoid major costly issues and maximize the lifespan of your roofing system. Your roof requires regular inspection and maintenance so as to reduce the possibility of premature leaks and ageing. This is because roofs are exposed to sunlight, snow, hail, wind, rain and temperature changes which gradually break down the roofing materials. Inspection and maintenance should be done by a professional roofing contractor or inspector annually, and in some cases semi-annually, as it involves specialized knowledge, training, equipment and safety requirements. Well maintained shingle roofs can last for up to 30 years, thereby protecting your home, your family as well as your belongings. In case you have a tile or slate roof, it could last a life time. Replacing your roof can be costly but with regular maintenance and repair services when needed, you'll be certain to get a long and happy life from the roof.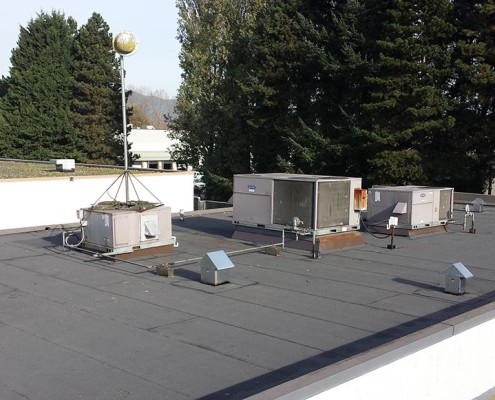 TPO Roofing
TPO (Thermoplastic PolyOlefin) is one of the fastest growing segment of the commercial Coquitlam and Maple Ridge roofing industry and is one of the most preferred single ply roofing membrane in the US. It is a flexible roof membrane manufactured using a UV-resistant thermoplastic polyolefin formulation through incorporating ethylene propylene rubber into polypropylene matrix. This is then reinforced with a polyester weft material. This roofing product has gained broad industry acceptance for its many performance and installation advantages. It offers you the option of a reliable and cost effective roofing solution. As demand for heat reflective and energy-efficient roofing systems increases, TPO single-ply roofing membrane continues to provide excellent resistance to UV, ozone and chemical exposure as well as providing a waterproof instalation. TPO comes in a range of thicknesses and is designed for ease of installation. The color of TPO membranes can transform traditional roofs into aesthetic attributes, with a choice of standard colors, preformulated colors, and practically unlimited custom colors, which can complement general building aesthetics or shingled areas. For your convenience, this roofing system can be installed mechanically fastened or fully adhered.
EPDM Roofing
Ethylene propylene diene terpolymer (EPDM) is a very durable synthetic rubber roofing membrane widely used in low-slope buildings in the US and worldwide. Its 2 primary ingredients, propylene and ethylene, are derived from oil and natural gas. EPDM roofing is available in both white and black, and is sold a broad range of widths, ranging from 7.5 feet to 50 feet, and in 2 thicknesses, 45 and 60 mils. This roofing system can be designed to meet a range of wind uplift criteria from Factory Mutual, which includes 1 – 60, 1 – 90, and 1 – 120 ratings and greater, as well as the stringent code of Dade County, Florida. EPDM roofing can be installed either mechanically attached, fully adhered, or ballasted, with the seams of the roof system sealed using liquid adhesives or specially formulated tape. This roofing system was designed for high resistance to wind damage.